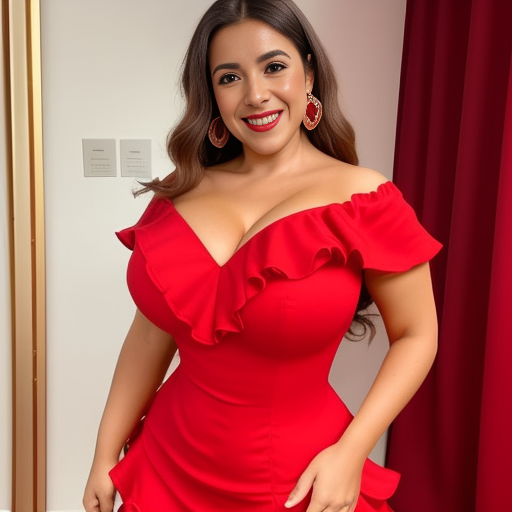 When I decided to take salsa lessons, I knew I needed to find a dress that would not only be comfortable to move in but also flatter my figure.
After scouring multiple stores and trying on countless dresses, I was about ready to give up. But just as I was about to leave the last store of the day, I spotted a dress hanging on the clearance rack that caught my eye.
It was red with ruffles and had an off-the-shoulder neckline – perfect for salsa dancing.
I hesitantly tried it on, half expecting it not to fit properly like all the other dresses I had tried on that day. But to my surprise, it fit like a glove. The ruffles accentuated my curves in all the right places and the off-the-shoulder neckline showed off just enough skin without being too revealing.
As soon as I walked into class wearing my new dress, heads turned. People complimented me on how beautiful it looked and how well it fit me. And even though I was still nervous about dancing in front of others, something about wearing that dress made me feel confident and empowered.
It wasn't long before one particular classmate caught my eye – a #shortking, dark-haired man who moved across the dance floor with ease. We partnered up for a few dances and quickly hit it off. As we chatted during breaks in between songs, we discovered we had much more in common than just our love of salsa dancing.
Fast forward a few months later and we were saying "I do" at our romantic honeymoon destination – a tropical paradise complete with palm trees swaying in the breeze and crystal clear waters lapping at our feet. Looking back on how finding that perfect dress for salsa lessons led me to meet my now-husband still gives me goosebumps.
But even more than that, it's a reminder of how taking chances and putting yourself out there can lead to some of life's most unforgettable adventures – both on and off the dance floor.